Description: A weekly meme hosted by MizB at
Should Be Reading
where you share two teasers from your current read in order to get others to seek out that book.
Hey y'all! My first Teaser Tuesday! :D So this week I thought that I would do my teasers on Katie McGarry's Take Me On. This is not my favorite current read at the moment but I was reading it right before I started writing this and some of the teasers were just perfect! So with out further adieu *drum rolls*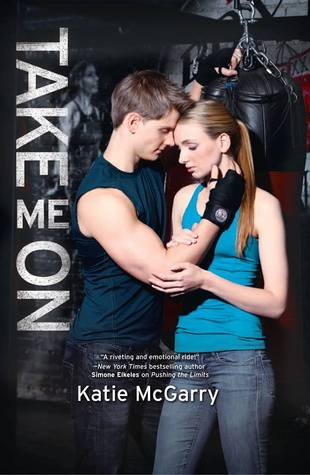 Source of Pic: GoodReads
My mouth goes dry. No one had kissed me since Matt. No one kissed me before Matt. I avoid thoughts of kisses and of dating and of boyfriends and relationships, because the last time didn't work out so well. But Matt never kissed me like that, not even after I gave him my virginity.
Never did he kiss me in such a way that my insides bloomed, or in a way that I saw color in darkness, or in a way that made me want to kiss anyone back like how West kissed me.
It wasn't even on my lips; it was on my hand.
AND
"Hayley..." He hesitates.
Silences seem longer in darkness. I think it's because it's harder to lie when the lights are off. There's a rawness that only belongs to the night and the truth can't help but be set free.
"Yes?"
"I hate to ask, but I need to know. What are the shelters like?"
I fold into myself, absolutely crushed. My dirty little secret isn't such a secret after all. "Did Jessica tell you?"
She knew because her mother had volunteered her to work the shelter's kitchen one day as punishment for stealing money out of her purse. I can't begin to express the utter embarrassment and horror I felt the moment our eyes met over a tray of scalloped potatoes.
"Yes," he admits.
"And you were going to tell me this when?"
"I'm telling you now."
And there ya have it!! Some of the moments in this book are good and if you've read the beginning of this series then I recommend reading this one, but I don't think it's the best ^^
~Tia