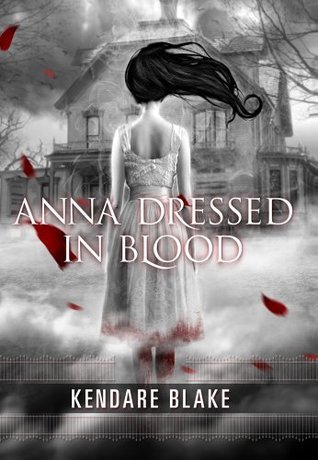 Anna Dressed in Blood by Kendare Blake
Average Rating on Goodreads: 4 of 5 Stars
My Rating: 4 of 5 Stars
Page Count: 316
Synopsis:
Cas Lowood has inherited an unusual vocation: He kills the dead.
So did his father before him, until he was gruesomely murdered by a ghost he sought to kill. Now, armed with his father's mysterious and deadly athame, Cas travels the country with his kitchen-witch mother and their spirit-sniffing cat. They follow legends and local lore, destroy the murderous dead, and keep pesky things like the future and friends at bay.
Searching for a ghost the locals call Anna Dressed in Blood, Cas expects the usual: track, hunt, kill. What he finds instead is a girl entangled in curses and rage, a ghost like he's never faced before. She still wears the dress she wore on the day of her brutal murder in 1958: once white, now stained red and dripping with blood. Since her death, Anna has killed any and every person who has dared to step into the deserted Victorian she used to call home.
Yet she spares Cas's life.
So as you guys know, I'm participating in the Chills and Thrills #ReadingCram Read-a-thon and Anna Dressed in Blood was one of the books that I chose to add to my TBR. Now Last year around this time, I had started this book but I never ended up finishing it because it was due at the library and the amount of times I could renew it was depleted. Even though I had read the beginning of it before, I still forgot pretty much everything that happened because it had been so long. I'm glad I decided to pick it up again,
Kendare Blake's writing is so vivid and entertaining! She knows her way around words. I read the first book in her Goddess War series and I absolutely loved it, so I knew this one wouldn't be disappointing. Blake pulls you into the story straight from page one by showing a scene of Cas fighting a ghost. It gives you a glimpse of Cas's personality and the type of life he lives.
Normally I don't really like books that are in the male POV unless it's paired with a female one, but Blake made it work. She's one of the only author's I know of who can actually writing in the opposite gender's POV and not make it feel weird or overdone or completely unrealistic. I hate when a book feels that way, even if it's supposed to be paranormal xD
The plot line was unique too! I mean obviously it wasn't entirely unique as pretty much everything has already been done before, but Blake put her own spin on it and made it interesting. Cas is a ghost hunter or as Caramel and Thomas call him, a Ghostbuster XD And he gets a tip about this ghost in Canada called Anna Dressed in Blood. He thinks this'll be a simple killing, but what he didn't anticipate was that Anna isn't like normal ghosts he's killed before.
A few deaths, crazy rituals, and the breaking of a spell later, Cas comes face to face with something he thought he would have to track down. He hadn't anticipated his father's killer coming to him. In the end, it wasn't about killing Anna anymore, it was about saving himself and the people he had become friends with despite his resolve to keep everyone at arms length.
Anna Dressed in Blood is a creepy, spine-chilling read that anyone would enjoy at Halloween time. It's also a great book for those of you who don't really like romance. Nothing lovey-dovey happens until the last chapters and I don't think you can get any less romance than that nowadays xD
Happy Reading
Tia