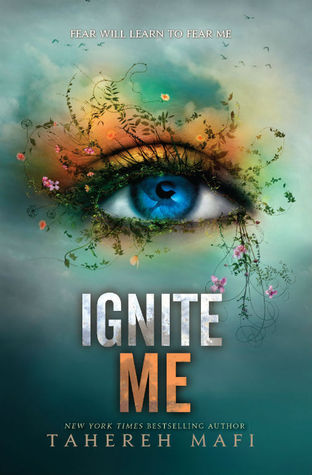 Ignite Me by Tahereh Mafi
Average Rating on Goodreads: 4.48 of 5 Stars
My Rating: 5 of 5 Stars
Page Count:
Synopsis:
The heart-stopping conclusion to the New York Times bestselling Shatter Me series, which Ransom Riggs, bestselling author of Miss Peregrine's Home for Peculiar Children, called "a thrilling, high-stakes saga of self-discovery and forbidden love."
With Omega Point destroyed, Juliette doesn't know if the rebels, her friends, or even Adam are alive. But that won't keep her from trying to take down The Reestablishment once and for all. Now she must rely on Warner, the handsome commander of Sector 45. The one person she never thought she could trust. The same person who saved her life. He promises to help Juliette master her powers and save their dying world . . . but that's not all he wants with her.
The Shatter Me series is perfect for fans who crave action-packed young adult novels with tantalizing romance like Divergent by Veronica Roth, The Hunger Games by Suzanne Collins, and Legend by Marie Lu. Tahereh Mafi has created a captivating and original story that combines the best of dystopian and paranormal, and was praised by Publishers Weekly as "a gripping read from an author who's not afraid to take risks." Now this final book brings the series to a shocking and satisfying end.
______________________________________________________
Oh my gosh this book was fan-freaking-tastic! I cannot believe I put reading this one off for so long! I admit that the first two weren't my absolute favorite books of all time but I still did like them. Then once Ignite Me came out I wanted to get my hands on a copy but my friends all finished it before I got the chance and kept telling me how disappointed in it they were and it made me less enthusiastic about reading it and I ended up putting it off for longer than I should have.
When I went to the library the other day I hadn't been planning on walking out with many books but I should have known that after being away for so long I wouldn't be able to help myself. Ignite Me was one of the books I ended up checking out and I am so glad that it was there.
Mafi had me laughing so much with this one. The last two books were more centered on Juliette discovering her powers and the start of the war with the
Reestablishment, but I felt that Juliette was just a whiny little girl that always expected people to fight for her and do things for her. She never fought for herself, but in Ignite Me all of that changes, Juliette becomes a freaking badass!
I forgot how much I loved Mafi's quick and unique writing style. It made the book feel like it was over so much faster though. I think this was the first book I've read in a day in such a long time. Tahereh has such a way with words that Juliette's personality totally jumps out at you and you can't help but feel a connection with her and also with the other characters.
Speaking of characters let me just say that I absolutely LOVE Kenji! I think he's my favorite character by far in the whole entire series (besides James ;)) He's just so goddamn funny I can't handle it sometimes! I think I cracked up more during this book than I have during a lot of books I've been reading recently.
______________________________________________________
"Back to work. And this time,
focus
. You're not an ape. Don't just throw your shit everywhere."
"I am not dramatic, okay? My presence just commands a certain kind of attention..."
"No,' he says, pointing at me as he shifts backward again. 'Bad Juliette. You don't kill people remember? You're against that, remember? You like to talk about feelings and rainbows..."
_______________________________________________________
And those are only a few of the many jokes that Kenji made that had me laughing my ass off. I wish that he had his own book <3 I can only imagine what that would be like.
The end did feel a bit rushed and the war a bit too easy, but I think that everything else made up for it! This was one hell of a book and I totally recommend it to everyone! And if you haven't read Shatter Me or Unravel Me...You better hop to it!
Happy Reading
Tia