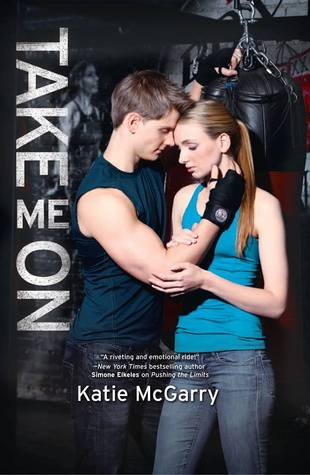 Take Me On
by
Katie McGarry
Average Rating on Goodreads: 4.16 of 5 stars
My Rating: 3 of 5 stars
Page Count: 544
Synopsis:
Acclaimed author Katie McGarry retur
ns with the knockout new story of two high school seniors who are about to learn what winning really means.
Champion kickboxer Haley swore she'd never set foot in the ring again after one tragic night. But then the guy she can't stop thinking about accepts a mixed martial arts fight in her honor. Suddenly, Haley has to train West Young. All attitude, West is everything Haley promised herself she'd stay away from. Yet he won't last five seconds in the ring without her help.
West is keeping a big secret from Haley. About who he really is. But helping her-fighting for her-is a shot at redemption. Especially since it's his fault his family is falling apart. He can't change the past, but maybe he can change Haley's future.
Hayley and West have agreed to keep their relationship strictly in the ring. But as an unexpected bond forms between them and attraction mocks their best intentions, they'll face their darkest fears and discover love is worth fighting for.
Weeeelll...I finally finished it! After two months....XD I would have finished it sooner but school got in the way /: But I'm done with it now so that's all that matters
So, even though I didn't like it that much in the beginning because I was still stuck in Rachel and Isaiah's, taking that time off from reading it actually made me appreciate it a little bit more once I started it again. I feel like wrapping up the series with West and Haley was actually a smart move on Katie's part.
At the end of Crash Into You, it had been two months after the crash and West was in Rachel's life fully, helping her, and being there for her. In Take Me On, however, it backtracked to right after Rachel got in the crash and lost the mobility of her legs. By flashbacking, we get a sense of who West was before and after and then we experience his change.
When I first started this, I liked West, but not as much as I liked Isaiah...I also hated Haley. I couldn't handle her poor me act, but, even though she kinda kept up with retreating into herself, she grew on me. Once she started letting West in, I started to develop a little more respect for her.
Then what West did to her near the end pissed me off....and the plot twist with his mom and her past wasn't expected, but Katie always knows how to catch people off guard. She did it in Crash Into Me and I knew she would do it with this one too. It was just the matter of figuring out what it was.
Anyway, Crash Into Me with forever be my favorite book of this series, but I still liked Take Me On and recommend that anyone who's read this series read this one as well to get that full closure about all the loose ends....Although I would like to know what happens to Rachel's brother Ethan....and Haley's cousin Jax...
*sigh* So many characters I wish had their own books xD
~Tia