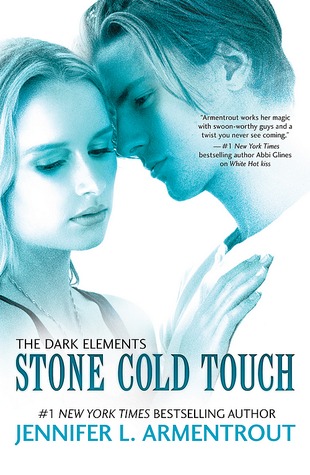 Stone Cold Touch by Jennifer L. Armentrout
Average Rating on Goodreads: 4.5 of 5 stars
My Rating: 5 of 5 stars
Page Count: 464
Synopsis:
Every touch has its price
Layla Shaw is trying to pick up the pieces of her shattered life—no easy task for a seventeen-year-old who's pretty sure things can't get worse. Her impossibly gorgeous best friend, Zayne, is forever off-limits thanks to the mysterious powers of her soul-stealing kiss. The Warden clan that has always protected her is suddenly keeping dangerous secrets. And she can barely think about Roth, the wickedly hot demon prince who understood her in ways no one else could.
But sometimes rock bottom is only the beginning. Because suddenly Layla's powers begin to evolve, and she's offered a tantalizing taste of what has always been forbidden. Then, when she least expects it, Roth returns, bringing news that could change her world forever. She's finally getting what she always wanted, but with hell literally breaking loose and the body count adding up, the price may be higher than Layla is willing to pay…
Absolutely magnificent! The sexual tension! The freaking amazing badassery! The fights! The mystery! The CLIFHANGER! Goddamn this book was just fantastic. Even better than WHK.
There were so many twists and turns, it kept me turning the page. JLA put out all the stops for this one. There was so much mystery surrounding everything that was going on that you wouldn't have ever expected the ending to go the way it did. Then again, people always say watch out for the quiet ones so I should have known *shakes head*
The love triangle thing was slightly annoying because no matter how great Zayne may seem, my heart will always pick Roth. He's just...gah! I can't even put him into words...even though he pissed me off in the beginning of this book -.- he came through in the end that that's all that matters.
The plot and the writing style were immaculate as always for JLA. She just has a way of weaving words together that leave you wanting more and boy do I want more! I cannot wait for the third book to be released. It just doesn't seem possible that I'll be able to contain my curiosity for that long.
So, Jennifer, this is me begging you, write faster! DX