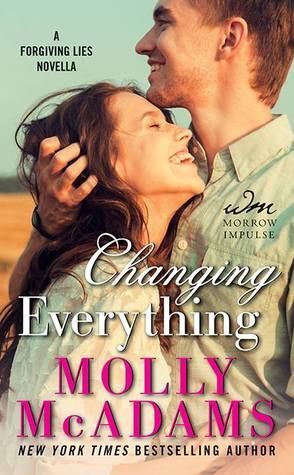 Changing Everything by Molly McAdams
Average Rating on Goodreads: 3.57 of 5 stars
My Rating: 3 of 5 stars
Page Count: 112
Synopsis:
Paisley Morro has been in love with Eli since they were thirteen-years-old. But after twelve years of only being his best friend and wingman, the heartache that comes from watching him with countless other women becomes too much, and Paisley decides its time to lay all her feelings on the table.
Eli Jenkins has a life most guys would kill for: Dream job, countless women, and his best friend, Paisley, to be the girl he can always count on for everything else. But one conversation not only changes everything between them, it threatens to make him lose the only girl who has ever meant anything to him.
When tragedy strikes his family and Eli is forced to reevaluate his life, he realizes a life without Paisley isn't a life at all. Only now, he may be too late.
**I received an eARC of this book via Edelweiss for an honest review**
Hmm...where to start with this one...Ah I know!
As I said in my Top Ten Tuesday Post, I love when best friends fall in love with each other. I think that was the main thing I liked about this book. I haven't read many books lately with this type of love story and it was a nice change from all the love triangle crap I've been dealing with lately in all of my books.
What I didn't really like about this was that Paisley was kind of...spineless. She wouldn't tell Eli how she really felt until she had met someone else. I feel like that was sort of selfish of her. She barely gave Eli time to process what she said before she was moving on to someone else. I mean come on! She dropped a freaking bomb on him! What do you expect his answer is going to be?
And can I just say that reading a book with a character that has the same last name as me is rather strange. I mean, having a main character have the same name as me is even weirder because of the rarity of my name, but it's also weird for last names. I just think it's funny xD
But back to the actual plot of the book. Once Eli and Paisley got together, I realised that most of the book was sex and there wasn't much else to the story line. It made it kind of unappealing to read, but I pushed through since it didn't take me that long to finish it.
So overall I only gave it 3 stars because while it wasn't bad, I just felt that, even as a novella, it could have been better.