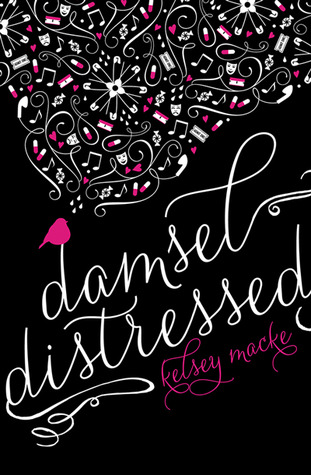 Damsel Distressed by Kelsey Macke
Average Rating on Goodreads: 4 of 5 stars
My Rating: 4 of 5 stars
Page Count: 321
Synopsis:
Hot girls get the fairy tales. No one cares about the stepsisters' story. Those girls don't get a sweet little ending; they get a lifetime of longing
Imogen Keegen has never had a happily ever after–in fact, she doesn't think they are possible. Ever since her mother's death seven years ago, Imogen has pulled herself in and out of therapy, struggled with an "emotionally disturbed" special ed. label, and loathed her perma-plus-sized status.
When Imogen's new stepsister, the evil and gorgeous Ella Cinder, moves in down the hall, Imogen begins losing grip on the pieces she's been trying to hold together. The only things that gave her solace–the theatre, cheese fries, and her best friend, Grant–aren't enough to save her from her pain this time.
While Imogen is enjoying her moment in the spotlight after the high school musical, the journal pages containing her darkest thoughts get put on display. Now, Imogen must resign herself to be crushed under the ever-increasing weight of her pain, or finally accept the starring role in her own life story.
And maybe even find herself a happily ever after.
Enhance the experience with the companion soundtrack, Imogen Unlocked, by the author's band, Wedding Day Rain.
Gosh it's been awhile since I've written a proper review /: Let's see how this goes shall we?
I thoroughly enjoyed this novel. I had heard a lot of hype about it from my dear friend Nori and when I got the chance to read it, I was pleasantly surprised. I loved the fact that Imogen wasn't the typical main character. She was overweight, had horrible anxiety and depression issues and went through a lot of the same problems teens today are facing. All in all she was very relatable.
I also liked the take on the Cinderella fairy tale. Macke gave it her own unique spin and I absolutely loved the fact that Cinder, Imogen's new stepsister, was the one who was a bitch, when everyone knows the story of Cinderella to be about a sweet nice girl who finally finds love.
It's been awhile since I've read this, so some of the details are a bit fuzzy, but I think the reason I gave it a 4 instead of a 5 was because half of the time I was usually yelling at Imogen to stop being so stupid. Don't get me wrong, she was an amazing main character and I loved being able to relate to her so well, but sometimes I just wanted to shake her and tell her to talk to her friends. I mean that's what they're there for! To help you through problem! Plus it was obvious that her best friend was in love with her to everyone but her apparently, but I guess that's how all books usually are :P