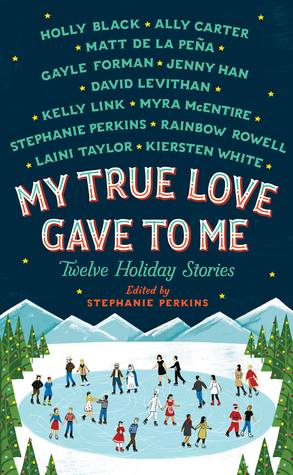 My True Love Gave to Me by Stephanie Perkins and 11 other authors
Average Rating on Goodreads: 3.79 of 5 stars
My Rating: 4 of 5 stars
Page Count: 321
Synopsis:
If you love holiday stories, holiday movies, made-for-TV-holiday specials, holiday episodes of your favorite sitcoms and, especially, if you love holiday anthologies, you're going to fall in love with My True Love Gave To Me: Twelve Holiday Stories by twelve bestselling young adult writers, edited by international bestselling author Stephanie Perkins. Whether you enjoy celebrating Christmas or Hanukkah, Winter Solstice or New Year's there's something here for everyone. So curl up by the fireplace and get cozy. You have twelve reasons this season to stay indoors and fall in love.
My True Love Gave to Me is a collection of various short stories written by many of our favourite authors that follow characters during Christmas time. Now, normally I try to stay away from short stories because I always want more from them. I'm always left wondering "what happened?" Or "did everything work out?" I find it very frustrating because most of the time they end with so many endless possibilities that I have no idea what to think. My True Love Gave to Me, however, held my attention and only left me with a small lingering sense of wanting more. The authors wrote short, sweet stories that were both touching and inspiring.
There were a few stories that I found it hard to get into. I'm unsure if it's because of the style of writing or if the story itself just didn't grab my attention, but it wasn't often that that happened. Many of the stories held my attention and there were even a few that touched my heart more than I had been expecting...especially considering the titles of some of them xD
One of them was about a trouble maker getting a second chance. The story was fantastically sweet and I loved every minute of it. In the midst of chaos, a Christmas pageant was put on, and a love was formed. "Did I go to far?" She said. "No," I replied, "you went just far enough." God that line made my eyes all misty. It was a great ending to the story.
Another one I didn't expect to like went against the traditional Christmas holiday and celebrated Krampuslauf, a holiday that didn't have naughty and nice, only justice. It brought the feeling that there is magic everywhere if only you look around.
I have to say that my absolute favourite was a story about a Jewish girl spending the holidays alone. It isn't until she meets a handsome stranger that her eyes are opened to the hidden beauties of her new town. She discovers that there are no minor miracles, every miracle is worth noticing.
Overall, I thoroughly enjoyed this book. Each story was unique and taught a different lesson with each roadblock the characters faced. I gave My True Love Gave to Me 4 stars because even the stories that didn't fully grasp me, still had something important to say. It was also pretty amazing getting to experience the writing of authors I hadn't even heard of before!