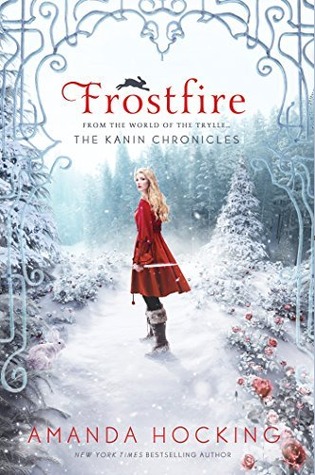 Frostfire by Amanda Hocking
Average Rating on Goodreads: 3.87 of 5 stars
My Rating: 5 of 5 stars
Page Count: 321
Synopsis:
Bryn Aven is an outcast among the Kanin, the most powerful of the troll tribes.
Set apart by her heritage and her past, Bryn is a tracker who's determined to become a respected part of her world. She has just one goal: become a member of the elite King's Guard to protect the royal family. She's not going to let anything stand in her way, not even a forbidden romance with her boss Ridley Dresden.
But all her plans for the future are put on hold when Konstantin– a fallen hero she once loved – begins kidnapping changelings. Bryn is sent in to help stop him, but will she lose her heart in the process?
Frostfire is the first book in the spin off series of Hocking's Trylle trilogy. I was super excited to hear about this new series because the Trylle series is one of my comfort series. I tend to read them when I was something easy and light to read. And I have to say, Miss Hocking didn't disappoint with this series either.
There were times when I was annoyed with the characters, but what character doesn't annoy you at least a little right? Bryn was pretty damn badass and I loved the fact that her relationship with Ridley didn't develop right off the bat. I mean hell, it technically still hasn't despite the fact that you know they have to end up together eventually....right? They couldn't NOT end up together. I really like the balance between the two of them. Bryn is someone who could make Ridley settle down and Ridley would make Bryn think about things before she acts and bring a sense of rational to the situation.
The appearance of Tove and Wendy! :D I was so happy when the book intertwined!
The whole story line was pretty much amazing. There was a lot of action and even though I could predict most things, it was still intriguing to read. I can't wait to read the next installment :)
Happy Reading
Tia