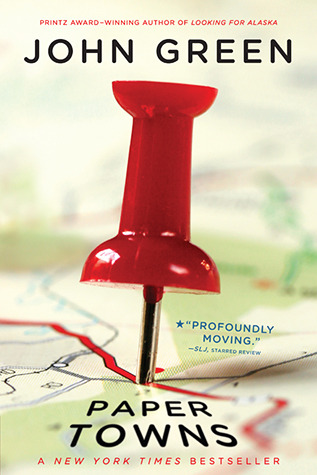 Paper Towns by John Green
Average Rating on Goodreads: 4.02 of 5 stars
My Rating: 4 of 5 stars
Page Count: 305
Synopsis:
Quentin Jacobsen has spent a lifetime loving the magnificently adventurous Margo Roth Spiegelman from afar. So when she cracks open a window and climbs into his life—dressed like a ninja and summoning him for an ingenious campaign of revenge—he follows. After their all-nighter ends, and a new day breaks, Q arrives at school to discover that Margo, always an enigma, has now become a mystery. But Q soon learns that there are clues—and they're for him. Urged down a disconnected path, the closer he gets, the less Q sees the girl he thought he knew...
Okay, so I absolutely loved TFiOS, which is another John Green novel and the first one I read of his, so naturally I figured that I would love this one as well. That however was not the case. Don't get me wrong. I liked Paper Towns, but I didn't feel the love for it I had felt for TFiOS. Some of the things that happened with Quentin finding the clues that Margo"left for him" didn't seem realistic and who does the things Margo does without getting in a shit ton of trouble? I mean a lot of books are like that, with main characters not getting caught for things they do, but come on. This was a bit much.
I still loved Green's writing though. His characters are 3 dimensional and developed and the writing sucks you in regardless of how you feel about the general story line.
My favourite characters though were the secondary characters. Quentin's friends were great and supportive despite how foolish his quest to find Margo was. I mean going on a road trip just to go to this "Paper Town" to see if she's really there shows they care a lot for Q.
I might see the movie, but I think I'll end up waiting for it to be released on DVD before I do.
Overall I gave Paper Towns 4 out of 5 stars. Hopefully my next John Green book will earn a 5 :)
~Tia