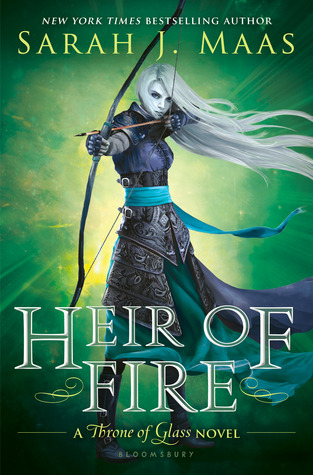 Heir of Fire by Sarah J. Maas
Average Rating on Goodreads: 4.58 of 5 stars
My Rating: 5 of 5 stars
Page Count: 562
Synopsis:
She was the heir of ash and fire, and she would bow to no one.
Celaena Sardothien has survived deadly contests and shattering heartbreak—but at an unspeakable cost. Now she must travel to a new land to confront her darkest truth...a truth about her heritage that could change her life—and her future—forever.
Meanwhile, brutal and monstrous forces are gathering on the horizon, intent on enslaving her world. To defeat them, Celaena must find the strength to not only fight her inner demons but to battle the evil that is about to be unleashed.
The king's assassin takes on an even greater destiny and burns brighter than ever before in this follow-up to the New York Times bestselling Crown of Midnight.
**Might be slightly spoilery. I'm going to try to keep out major details, but some things might slip out**
Gosh where to start?
Okay...So the beginning of the book started kind of rocky for me. I was overly annoyed with Celaena. I tried not to be because I knew what she had just gone through, but she was just letting herself waste away and I just wanted to shake her. Once she went to meet with Maeve, however, that's when things got good.
All of the new characters were so intriguing!! Manon was a conundrum. I felt like she wanted to rebel against her grandmother and I thought she would finally show some emotion somewhere, but then she'd just flip and be the heartless which again. I really can't wait to see where Maas takes her character.
Lucas and Emrys are just super adorable. I love them. The way Celaena acted towards them in the beginning really made me start disliking her that much more. But as time went on, I was so happy to see her relationship with the two develop into something almost like family.
Rowan...I saved the best for last. When I first met him, I was kind of dismissive of him because I was still totally shipping Celaena and Chaol together even after everything that happened. I was still convinced that they would overcome everything when Celaena returned. Rowan was just a Fae asshole at that point (which isn't that far off the mark). But as time went on and Celaena continued her training, he kind of grew on me. I started to like him and I could see the strength he gave to Celaena. A strength she didn't have before, a strength Chaol never gave her.
The entire novel, from beginning to end, was an emotional roller coaster. The writing was beautiful and flowed so well...even though it took me a month and a half to finish, I will never say it was because of the quality of the novel. It was only because of my poor time management skills xD
I think my favourite part of the novel was the end fighting scene. It was so badass and just showed just how much Celaena has grown since the beginning of the series. I love the way Maas is able to gradually change characters, it makes it so relatable even if you have never experienced any of the things the characters are going through, you still know what it feels like to change the way you begin to look at things. I know I related to it.
I highly recommend this book and this entire series! 5 out of 5 stars
Happy Reading
Tia