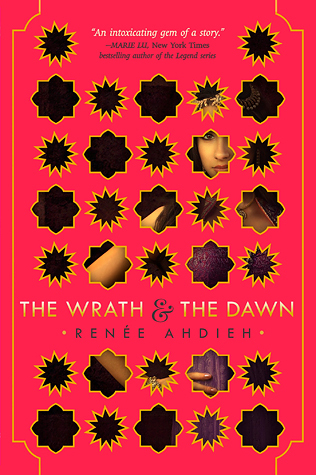 The Wrath & The Dawn by Renee Ahdieh
Average Rating on Goodreads: 4.22 of 5 Stars
My Rating: 3.5 of 5 Stars
Page Count: 388
Synopsis:
One Life to One Dawn.
In a land ruled by a murderous boy-king, each dawn brings heartache to a new family. Khalid, the eighteen-year-old Caliph of Khorasan, is a monster. Each night he takes a new bride only to have a silk cord wrapped around her throat come morning. When sixteen-year-old Shahrzad's dearest friend falls victim to Khalid, Shahrzad vows vengeance and volunteers to be his next bride. Shahrzad is determined not only to stay alive, but to end the caliph's reign of terror once and for all.
Night after night, Shahrzad beguiles Khalid, weaving stories that enchant, ensuring her survival, though she knows each dawn could be her last. But something she never expected begins to happen: Khalid is nothing like what she'd imagined him to be. This monster is a boy with a tormented heart. Incredibly, Shahrzad finds herself falling in love. How is this possible? It's an unforgivable betrayal. Still, Shahrzad has come to understand all is not as it seems in this palace of marble and stone. She resolves to uncover whatever secrets lurk and, despite her love, be ready to take Khalid's life as retribution for the many lives he's stolen. Can their love survive this world of stories and secrets?
Inspired by A Thousand and One Nights, The Wrath and the Dawn is a sumptuous and enthralling read from beginning to end.
***
I read this book for the Pokemon Go #ReadThemAllThon and I was really excited going in. I had heard lots of good things and even got a recommendation to read this in order to get out of my reading slump. However, I wasn't as wowed as I thought I would be.
The Bad
The mini love triangle. Now usually I don't get so worked up over a love triangle because some of them actually work (there will be a discussion post about my views on love triangles next week), but this one irked me. Like...obviously if she loved Tariq when she went in to the palace, she wouldn't have fallen so quickly for Khalid. And I understand Tariq's hate for Khalid, but no one knows the real him so it was frustrating when Tariq tried to rescue Shazi and wouldn't listen to her protests. Like get to actually know the guy first geez
The pace was a little frustrating too. She fell so hard for him so quickly, when she originally she went in with so much hate. Like the amount of hate she had for him in the beginning was so potent and it seemed to dissipate within a few days. It didn't seem very plausible.
The Good
The diversity. I thoroughly enjoyed being able to read a story about an ethnicity I've never read about before. It was actually funny because Shazi's sisters name, Irsa, is the same as one of my friend's sister. But the different setting and characters gave this story a much more unique feel.
Shazi's mouth. Her quick thinking and idgaf attitude was really awesome. I hate the damsel in distress attitude that some female characters tend to have when it comes time that they start falling in love. But from the beginning she kept people on their toes.
Despina also really intrigued me. The fact that she felt so comfortable with everyone even though she was only a handmaiden made me smile
Overall
I definitely enjoyed this enough to want to read the next book! So after this read-a-thon is over, I'm definitely gonna be picking up The Rose & The Dagger