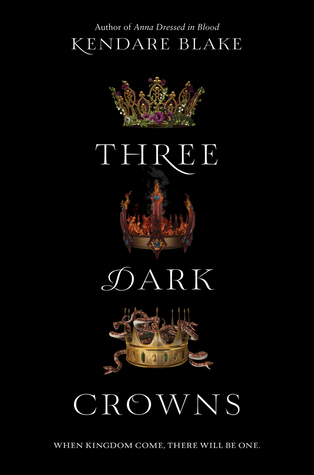 Three Dark Crowns by Kendare Blake
Average Rating on Goodreads: 3.85 of 5 Stars
My Rating: 4 of 5 Stars
Page Count: 416
Synopsis:
Every generation on the island of Fennbirn, a set of triplets is born: three queens, all equal heirs to the crown and each possessor of a coveted magic. Mirabella is a fierce elemental, able to spark hungry flames or vicious storms at the snap of her fingers. Katharine is a poisoner, one who can ingest the deadliest poisons without so much as a stomachache. Arsinoe, a naturalist, is said to have the ability to bloom the reddest rose and control the fiercest of lions.
But becoming the Queen Crowned isn't solely a matter of royal birth. Each sister has to fight for it. And it's not just a game of win or lose…it's life or death. The night the sisters turn sixteen, the battle begins. The last queen standing gets the crown.
If only it was that simple. Katharine is unable to tolerate the weakest poison, and Arsinoe, no matter how hard she tries, can't make even a weed grow. The two queens have been shamefully faking their powers, taking care to keep each other, the island, and their powerful sister Mirabella none the wiser. But with alliances being formed, betrayals taking shape, and ruthless revenge haunting the queens' every move, one thing is certain: the last queen standing might not be the strongest…but she may be the darkest.
***
I received a copy from Edelweiss for free in exchange for an honest review. This does not affect my opinion of the book in any way.
This book was one of my most anticipated books of 2016! Kendare Blake has been a favorite author of mine since I read her novel, Antigoddess, so I was super excited about this one. It might be slightly spoilery
The Bad
The pace was a little slow for me. I know this was an issue for some others as well and I know that a lot of people DNF. I almost couldn't keep going. It felt like each chapter was only a day in their lives, while we had months until Beltain to get through. Now, I get that each sister needed to be able to tell their story of their training leading up to the quickening and whatnot, but I would have liked a little more action in the beginning. However, even though the pace was a little slow in the beginning, I still thoroughly enjoyed the end.
Joseph!!! >:( He is the worst person ever. Like I was happy for Jules to get back her long lost love or whatever, but he is such a jerk! I also know that the reason for all of the events that transpired is probably Arsinoe's fault, but still! Joseph claims to love Jules but the moment he gets saved by another girl, he's having sex with her. AND THEN when Jules tells him no, that she just needs a little more time, what does he do? HAVE SEX WITH THE GIRL AGAIN!! I felt so bad for Jules :( She deserves someone so much better.
The Good
I honestly loved all of the sisters. They were all so different! Arsinoe is probably my favorite though. Even though she is a bit gullible and naive. But so are all of the sisters. They blindly follow whichever family they get fostered by pretty much without question. But the reason I like Arsinoe's story more than the others is because she has a genuine bond with her trainer, Jules. AND THE ENDING!! Each sister had their own ending scene because they were all in different places, and I feel like Arsinoe's was the most shocking.
I liked the different ways they all were trying to be impressive at the Quickening. Despite the fact that Kathrine and Arsinoe cheated, you could see that all anyone wanted was for them to live and not be killed by the Temple. I loved how everyone was willing to go to such lengths for their queen to win. I know it is probably because of power, but I could also see an underlying feeling of love each family (or at least one member of the family) had for their queen. Love that was not because of the power she would bring the family if she won.

Overall
The pace was a little slow, but it was still a well written book with an amazing premise. I don't know if I can wait for the next book! I need to know what the ending means for Arsinoe and Katherine...