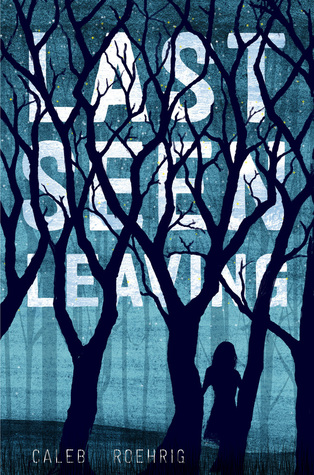 Last Seen Leaving by Caleb Roehrig
Average Rating on Goodreads: 3.99 of 5 Stars
My Rating: 5 of 5 Stars
Publication Date: October 4, 2016
Publisher: Feiwel & Friends
Page Count: 336
Goodreads
|
Amazon
|
B&N
|
Book Depository
Synopsis:
Flynn's girlfriend has disappeared. How can he uncover her secrets without revealing his own?
Flynn's girlfriend, January, is missing. The cops are asking questions he can't answer, and her friends are telling stories that don't add up. All eyes are on Flynn—as January's boyfriend, he must know something.
But Flynn has a secret of his own. And as he struggles to uncover the truth about January's disappearance, he must also face the truth about himself.
***
GUYS! THIS BOOK. You have no idea how much fangirled over this book. It had everything. Male protagonist. GAY male protagonist. Death. Mystery. Hot, swanky guy love interest. LITERALLY. EVERYTHING. (sorry for all the caps haha I'm excited)
Flynn's girlfriend, January, has gone missing. He comes home one day after school to find a cop car sitting in his driveway. This is when everything changes for him. Where he decides to become a pseudo detective and locate what exactly happened to January. Now, Flynn is only 15. You're probably thinking, What can a 15 year old do that the cops can't? Yet his determination to keep his secret a secret causes him to stumble upon many details about January's life that he did not know.
There were so many times while reading this where I kept going back and forth on who the killer was. To be honest, the ending seriously threw me through a loop. Like...I was not expecting that at all! But I was definitely very happy with how it ended. The epilogue was bittersweet.
And KAZ. Fucking KAZ. He is so cute and adorable and the amount he cares for Flynn is *insert Heart eyes* I think their relationship started maybe a little fast, but by the end I was shouting for them to officially be together already haha. I had this feeling from the very first time Flynn mentioned Kaz, they would end up together. It was kind of obvious, but that's okay. They were cute <3
I just really loved the writing too. It pulled me in from the very beginning and kept me reading into the wee hours of the night. This was definitely a fantastic debut book for Caleb Roehrig :D
So I suggest you definitely pick this book up the next chance you get! It was cute, mysterious, and will leave you on the edge of your seat guessing at every twist and turn.